Large Bows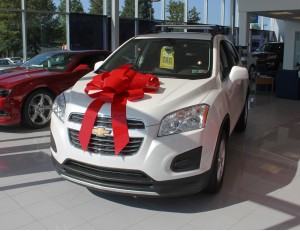 The holidays are often filled with anticipation and excitement, as we wait to give our family and friends the gifts that have been specifically chosen for them. Though most gifts will fit neatly into gift bags and can be wrapped up with traditional paper and bows, there are some gifts that require a bit more, gifts that need a big bow to complete the appearance of the surprise.
For the gifts that are too large to fit into the traditional bags and boxes, you can use large red bows and holiday bows to 'decorate' the gift and prepare it for giving.
There are four types of large red bows we carry for holiday surprises; the traditional red structural bow with gold edging, 22 inch and 30 inch red vinyl bows are perfect for store displays and giant gifts, and our 12 inch metallic pull bows can transform a gift that is too large to be wrapped into something special. Our bows can be accentuated with ribbons, tags and other elements to truly make a special memory.
Giant red car bows aren't just for cars! Parents often use the bows throughout the holiday to mark that special gift for the child that's too large to wrap. These giant bows can be placed on top or to the gift, placed in the home or under the Christmas tree to give the excitement from the moment the child enters the room. This way, the child doesn't have to wait to open the gift or look at the box in confusion and parents can prepare the night before.
Tying the large red bows to the gift is easy, whether you are tying it to a car or another large gift. Bows are accompanied with long tails that can be used to wrap around the gift and create the wrapped appearance that accompanies the bow's style. Square shaped, round shapes and even unique shaped gifts can be easily dressed up with the easy to tie bows. Ordering the car bows is easy – and inexpensive. We sell bows that are designed to make that extra large gift extra special at extremely competitive prices.