The Official Blog of Car Bow Store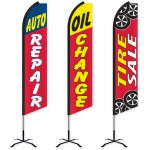 Feather flags are a method of advertising that falls into a classification called Out of Home Advertising (OOH). This classification of advertising includes billboards, bus signs, bench park signs, car wraps, and any other method whereby marketers target customers outside of their homes. This article will outline some compelling statistics associated with this type of advertising which make it an extremely effective way of reaching potential customers.
OOH Advertising Statistics
Likelihood of Impact
Out of Home advertising is important since adults in the United States spend an average of 70% of the day outside their home. As a result, advertising that is available outside the home has a higher likelihood of reaching your customers. In a 2013 study from the OAAA (Outdoor Advertising Association of America) found that 84% of car drivers pay attention to outdoor advertising. Even more impressive, the study found that 16% of people who did not pay attention to the advertising, still registered some of the information at a subconscious level...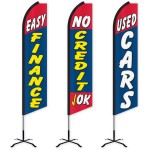 Feather Flags are an effective way for local businesses to promote their company and increase sales. There are many important reasons to choose this type of advertising.
Despite our global economy, where many modern businesses must promote themselves and appeal to an international clientele; there are still many small companies that cater to their local community and rely on strictly local customers. "Small businesses account for 99.7% of all businesses in the US" according to Small Business Saturday Statistics. These small local businesses are critical to our communities as they provide local residents with goods and services that would otherwise not be available.
One significant factor that contributes to the success of any venture is advertising. This can be a major investment, especially for small and medium-sized businesses, whether it takes the form of signs, internet marketing, radio, or television advertisements. One effective method of attracting attention to your business is through the use of outdoor signage like feather flags...
Showing 1 to 2 of 2 (1 Pages)