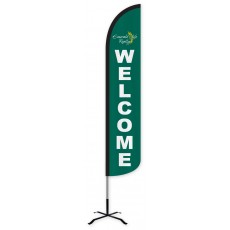 Flags have been long-used as symbols of nations and heraldry, to commemorate special events, and as decorations. In the Hindu Culture, tall flags with long fluttering tails, supported by bamboo poles, have been used for centuries at weddings, funerals, religious events, and important ceremonies. Traditionally, these flags were hand sewn and appliquéd, making them very labor intensive and expensive to produce.
These time-honored flags have been adapted in the past 20 years. Today's Feather Flags are tall, curved, feather-shaped flags supported by a single fiberglass or aluminum pole. Feather flags can be seen on nearly every street corner promoting everything from car dealerships and auto repair shops to restaurants. Modern printing technologies and lightweight, high-tech fabrics like polyester and nylon have made custom feather flags extremely economical to produce and thus their popularity has exploded. Digital printing technologies in particular have made custom one-off feather flags available to any consumer at extremely low prices. The following article will outline a few of the many uses for custom feather flags in today's marketplace.
Providing Directions
Customized feather flags can be used to effectively direct the public towards a desired location. Whether you are looking to steer people to an art gallery opening, local sports championship, sale at a car dealership, discount on home decor, or any other interesting event taking place, feather flags can provide helpful directions for your visitors. Traditional marketing techniques, such as online, radio, and television, can only succeed if potential customers are able to find your location. Outdoor placement of feather flags along the way to the destination will make your marketing efforts more efficient.
Promoting a Special Offer
In today's competitive marketplace, buyers are always on the lookout for a bargain. According to Forbes Magazine, about 80% of millennials, just like their parents, are influenced by the price when making a purchasing decision. Simply holding a sale is not enough; businesses must make sure prospective customers are aware of their discount pricing. Take advantage of the striking, attention-grabbing nature of feather flags by placing Sale Feather Flags in front of your business to promote a special offer. Many passersby will notice the bright colors, bold letters, and fluttering motion of the feather flags. The promise of a sale increases the sense of urgency with customers and increases the odds that they will visit your company.
Promoting a Brand
Brand recognition is a crucial part for the successful operation of any business. It is important to keep your brand in front of customers on a repeated basis. Repetition can build brand familiarity and make customers more likely to purchase from your company. Custom feather flags printed with a brand's name, logo, colors and message are an effective way to familiarize your potential customers with your business and win their trust. Flags help your customers remember your business, so the next time they require the products or services your company offers, they will remember the familiar colors or logo on the flags and will be more inclined to return to your company.
Placing a Marker
A custom feather flag with a company logo or an engaging slogan will work effectively for establishing a meeting point, mark the beginning and the end of the race at a sporting event, or define space at an outdoor gathering. Just like the flags used to give the public directions, these flags act like markers that designate a location for a particular purpose.
Use your imagination! – There are many more creative ways to use custom feather flags in today's marketplace. Feather flags are bright, colorful, and inviting, and their popularity has only grown over time. Particularly useful for outdoor advertising and brand promotion, custom feather flags can be also used for providing directions and orienting people in an open space, promoting a sale or special offer, and conveying a message from far away. Creative use of attractive and inviting custom flags generates a friendly response from your audience, so it is an important investment for your business organization.