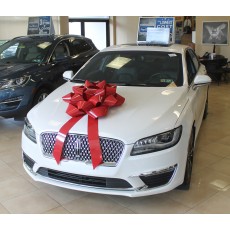 Big car bows can make your showroom look elegant, reflect your community spirit and solidify relationships with the buyer of a car. Every dealer knows how vital the interaction with the public is. The more comfortable they feel in your showroom, the more likely they will take the time to investigate all of your fantastic offerings. Decorating with big bows can be an integral part of enticing your clients to enjoy the ambiance in the showroom and outdoors if the weather suits your location.
Decorate the Showroom to Suit the Season
Big bows are associated with warm feelings, a sense of expectations and joy. By placing bows throughout your showroom, the decorations will transform the spirits of your customer from performing a mundane shopping task into a momentous occasion. Surround your clients with a positive atmosphere, and you will reap the reward of more success with sales. One well-known car manufacturer has run a successful marketing campaign with bows for at least 12 years. Big bows are very adaptable to suit your decorating needs.
Since the large bows come in 12 solid colors and two color combinations, they are appropriate for every time of the year. You can start with the classic red bow and then change it up several times a year. At Christmas decorate the showroom with red and green bows. For New Year's you can group a collection of the metallic bows on the hood of the cars for a special effect. At Valentines warm everyone's hearts with red bows. For spring and St Patrick's Day select green. For Easter purple and yellow will suit the time. During summer you can use a rainbow of colors to mimic the blooms of the season. For fall, warm colors of red, yellow and orange will look grand. For Veterans Day select bows of the solid colors of red, white and blue to display your support for our troops. The bows are relatively inexpensive, but they will change the look of your showroom dramatically. They are easy to mount to the cars since the base can be either magnetic or suction cup.
Connect to What Is Important in Your Community
By in large auto dealers sell their products to people in the local area. It is astute to demonstrate to your community members that they are essential. If the local sports teams win a big series, show your community spirit by decorating your showroom with its colors. Or if there is a special event such as a women's rally in your town, illustrate your respect for their cause with the selection of the color of your bows. You know how to appeal to your residents.
Recognition of Life Achievements
Nothing symbolizes the joy of giving more than a beautiful big bow. And if your gift is very significant, it is time for extravagances. Auto dealers can make bows available with every new car purchase to enhance the gift of a new car with a beautiful bow.
Celebrations are so uplifting for the soul. So when a time for rejoicing happens, it is important to acknowledge the event. Gifting a car in recognition of a lifetime achievement is a grand gesture. How fitting to also include a large bow, personalized by the color choice!
What life achievements would merit this impressive gift? There are many including
graduation
engagement
wedding
anniversary
fatherhood or motherhood
promotion
winning an award
new job
While the recipient will drive the car with pride, the bow will remind all of the thoughtfulness of the gift giver whether it hangs in a bedroom or exists in a photo proudly displayed in a new office at work.
The auto dealer will gain goodwill from the gift giver for arranging the giant bow to accompany the vehicle selection. An astute salesperson will make an offer of the bow to recognize a variety of life circumstances and pair it with a suitable card. Don't forget to be inventive with the colors. For a new baby boy, try a blue bow or a pink one for a girl. For graduation, seek out the colors of the university or college.
These are just several ideas for using the big bow to dress up your showroom. As you start to see their positive effects, you will develop more ways to continue to make the atmosphere in your dealership into a celebration or a show of respect.