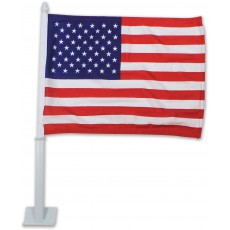 Car dealerships typically depend on selling to customers in their local geographical region. This makes it critical for dealers to attract the business of local residents through advertising. The car dealership marketing process can take the form of online advertising, local media promotions, or attractive displays at your dealership to attract prospective customers.
Creating a dynamic display at your dealership with car flags or feather flags can both help attract customers and convert individuals who are already visiting your lot into customers. Most car dealerships are located in high-traffic areas where many people drive by on a daily basis. A dynamic display of car flags across your lot can help encourage these customers to visit your lot when they're in need of purchasing a vehicle.
Moreover, individuals who arrive at your dealership to look at a car that they may have found through another marketing channel such as online marketing, will be drawn to dynamic displays which highlight vehicles and help close the deal.
This article will highlight ways that you can use car flags to increase your dealerships bottom line.
Attractive Display

Car flags are a cost-effective way to attract more customers to your dealership. The bright colors of the fluttering flags command the attention of passerbys and prospective customers alike. Set up the flags on the vehicles that are in the row closest to the road and you have achieved an attractive display that will attract the attention of many drivers. Just by noticing the colourful array of flags on your lot will drive promote customer-awareness of your dealership, which is the first step towards earning a sale.

Many dealerships choose car flags which coordinate with the colors of their logos and other advertising items. For example, customers may choose Black/White Checkered Car Flags to coordinate with Black/White Checkered Swooper flags to decorate their front line.

Patriotic-themed decorations are also a popular choice with dealerships. Many dealers will us a USA Car Flag on every car on their lot. Pair that with USA Swooper Flags across your front line and you will have a dynamic display which commands attention. The USA motif is especially popular during the July 4th and Memorial Day holidays which fall during the summer months.

Highlight Selling Points

Car flags can be used to highlight important selling points of particular cars or the dealership as a whole. For example, many prospective customers are looking for dealerships that offer "Buy Here Pay Here," "Financing," or "Certified Pre-Owned Vehicles." According to V12 Data, 54% of consumers would buy from a dealership that offers their preferred experience, even if it didn't have the lowest price. Car Flags can help to draw attention to these important features.

In a similar manner, you can catch the attention of the buyer who is motivated by savings to consider the cars on your lot that come with a special discount by using one of the "Sale" car flags. We offer four different color options for our popular "Sale Car Flags" to match any dealerships color scheme.
Measure the Effectiveness of Car Flags
Car Flags are very inexpensive, so it will not take many sales to recoup your investment. If you are looking to evaluate the effectiveness of your campaign, try comparing your sales before and after implementing the campaign to see if there was an increase. You can also ask your customers if they were attracted to your business as a result of the flag.
Overall, car flags are in inexpensive way to promote your business and highlight the selling points of your dealership. Priced as low as $1.85 each, these flags are a must for every new and used car dealership!