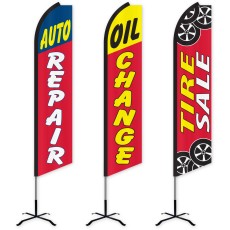 Feather flags are a method of advertising that falls into a classification called Out of Home Advertising (OOH). This classification of advertising includes billboards, bus signs, bench park signs, car wraps, and any other method whereby marketers target customers outside of their homes. This article will outline some compelling statistics associated with this type of advertising which make it an extremely effective way of reaching potential customers.
OOH Advertising Statistics
Likelihood of Impact
Out of Home advertising is important since adults in the United States spend an average of 70% of the day outside their home. As a result, advertising that is available outside the home has a higher likelihood of reaching your customers. In a 2013 study from the OAAA (Outdoor Advertising Association of America) found that 84% of car drivers pay attention to outdoor advertising. Even more impressive, the study found that 16% of people who did not pay attention to the advertising, still registered some of the information at a subconscious level.
Familiarity
Psychologists have long-known that repeated exposure to advertising promotes a familiarity that drives consumer decision making. When businesses display feather flags outside of their business, potential customers see them day in and day out on their way to work. This undoubtedly makes an impact on their buying decisions. When these customers need to procure the types of goods or services that your company offers, they will be more likely to choose your company even if they do not realize that the feather flags made that impact on them.
Feather Flag Advantages
Feather Flags are one of the most effective forms off OOH Advertising. Some of these advantages are outlined below:
Numerous Views

The impact of your flag is tied to the traffic outside your door. Since many businesses choose locations in high traffic areas, you can leverage this traffic to maximize your advertising dollar.

Cost-Effective

For a very small cost, in comparison to other methods of OOH advertising, you can design and acquire feather flags. The cost for billboards, car wraps, bus signs, and bus shelters are all in the thousands of dollars, but the cost for a Swooper flag campaign starts at just $19.95.

Easy To Assemble

Business owners can assemble the feather flag hardware, and feather flag outside their premises easily. No tools are needed and feather flag sets assemble in just minutes.

Localized Appeal

If you are a business that services local clients, you must target these potential customers in your neighbourhood. The feather flags are usually displayed close to your physical location so that people who travel past your business will be reached. Some of these people will likely need your services or may have a friend or family member who is looking for an auto mechanic, car wash, car dealership, etc. Familiarity with your company will increase your chances of driving these buyers to your establishment.

Customized

There are many stock feather flags choose from including: "Welcome", "Sale", "Open", etc. but you can also design custom printed feather flags to suit your needs. These flags are custom printed in the United States and turnaround time is just 2-3 business days after proof approval.

Adaptable

You can design a number of flags for different purposes or marketing campaigns but use the same flagpoles and hardware over and over. With a change of base, you can install the flags outside with a ground spike or take them inside with an x-stand for a special promotion.

Portable

If you are in a business that takes part in trade shows from time to time, you can pack up your flags and take them with you. X-stands are the perfect way to display feather flags indoors at a trade show.

Scalable

Displaying one flag is effective, but for maximum impact, display many flag sets across the front line of your business to really capture buyers attention and increase the effectiveness.

Moveable

We suggest moving your flagpole and flag indoors at the end of each day to prolong their lives. Even if you choose not to take your flag and pole indoors each night, you should definitely bring them indoors in the event of extreme weather conditions to prevent damage until the storm passes.
If you are ready to start a marketing campaign, or expand your business opportunities feather flags should rank at the top of your list as an effective method of attracting more customers!